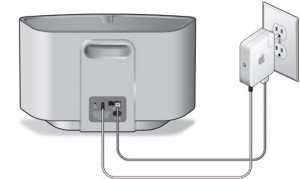 If you've got a Sonos music system and an Apple AirPort
Express, you have an AirPlay compatible multi-room Sonos system, sort of. You
can play your music in one or many zones synced. But not target different
specific zones, if they do not have separate AirPort Expresses.
Plug in your Apple AirPort Express into your ZonePlayer's line-in (3.5mm and ethernet)
and the music can be played across multiple systems across the house — so-called
Party Mode.
"Sonos improves the AirPlay experience with party mode so a
music lover can send a song from his iPhone or iPad to all the rooms in a home
with perfect synchronization," said John MacFarlane, founder and CEO of Sonos.
Sonos System Software 3.4 or later is required.
You can have your Autoplay Zone mapped to one or many
zones.
Read more at Sonos
(Visited 352 times, 1 visits today)