HomePod is Apple's answer to home automation speakers like Google Home and Amazon Echo. With the updated Airplay 2, HomePod is also Apple's answer to multiroom music systems like Sonos.
The speaker is packed with an A8 processor, which probably makes it the most processing powered speaker on the market. This allows HomePod to interpret speech even when music is played, to sync with other speakers and adapt the playback to the room. Place two in the same room and they detect and balance each other. Homepod will also detect how it is placed in the room and optimize the playback for that setting.
You can give commands to Siri, ask questions and get answers. Just say "Hey Siri, play Dr. Dre" to get going. A huge downside is that this only works for Apple Music and not Spotify and other. They have to be managed through Airplay 2 instead of voice commands, when they have implemented support for it.
You can also tap the top of HomePod to control the playback and volume. A LED waveform shows when siri is listening to commands.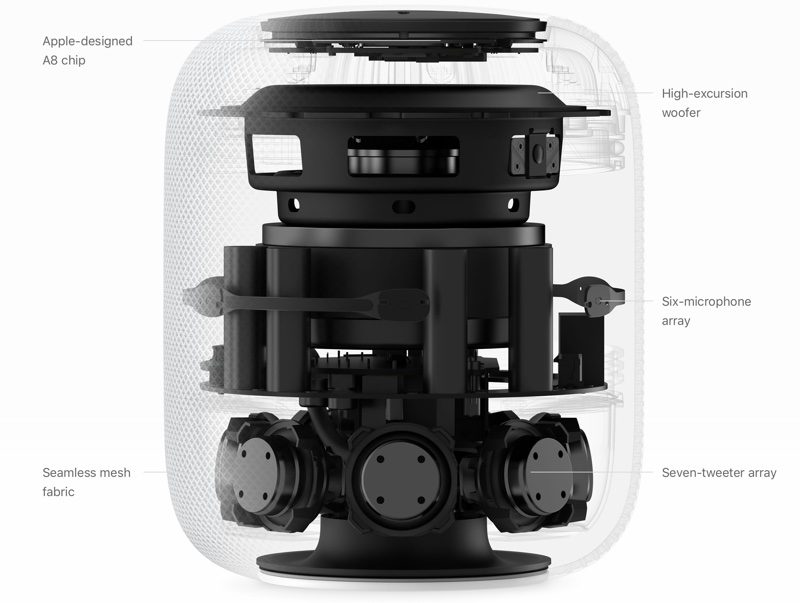 The speaker build is interesting with seven tweeters places around it to allow the music to be played in every direction. The bass is facing up. So even though it is a small package, it really is packed with sound technology.
HomePod uses Airplay 2 and can work together with other Airplay 2 devices of different brands in a multiroom setup, including grouped together in zones that has more than one speaker in it.
iOS 11 required for setup
In order to setup the HomePod, you need to have a iOS device with at least iOS 11. Once it has been setup, it is ready for AirPlay streaming from older devices and AirPlay 2 from newer.
(Visited 80 times, 1 visits today)