Read about the new SoundTouch series III instead
Bose is emerging as a major player in the multi-room market with its upgraded SoundTouch series II systems.
The upgrade to series II includes: More music sources, like Spotify Connect and Deezer, streaming from a PC/Mac music library (non-copyprotected iTunes files), improved control apps with new search and bass control, removed requirement for PC plugin during setup and both a black and a white color option.
Music Sources
SoundTouch supports both AirPlay and Spotify Connect. Can play 20,000 Internet radio stations, music on the local network, and music services including Deezer, Pandora, and iHeartRadio. Local network includes from a NAS and various music libraries on a PC (one library per PC) like iTunes and Windows Media Player.
The supported audio formats are: MP3, WMA, AAC and Apple Lossless.
You can control the system with an app, ir-remote and on unit controls. Apps exist for iOS, Android and PC.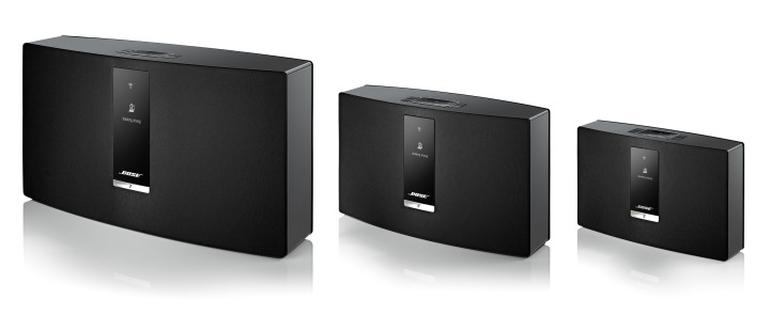 SoundTouch 20 is for small to medium sized rooms. SoundTouch Portable is for small to medium sized rooms and portable through its rechargeable battery. SoundTouch 30 is for medim sized to big rooms.
Each unit has an OLED display that provides source and song/station info. They have Aux input that enables audio connections from other sources. They also have an Ethernet port for wired connection to the home network.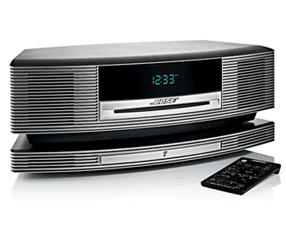 SoundTouch Wave is device that is compatible with SoundTouch but with different design and features. It has a CD player, AM/FM radio, Aux in jack and a headphone jack. It is also designed to work as a bedside alarm clock with alarm and snooze.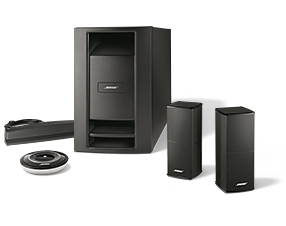 SoundTouch Stereo JC Series II is a stereo system with two Jewel Cube Series II speakers and a powered Acoustimass module that is targeted at the living room. It has a designed remote control that handles the standard tasks of skip, pause, play and so on.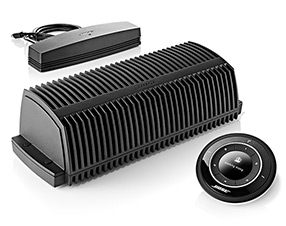 SoundTouch™ SA-4 amplifier can be connected to speakers of your choosing which in essence makes it a competitor to Sonos Connect AMP. The designed round remote is included in the package.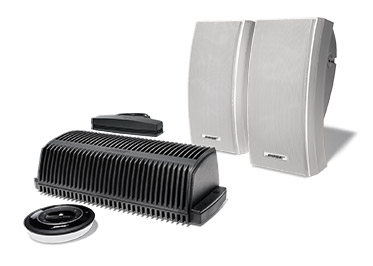 SoundTouch outdoor speaker system is a package with amplifier and two speakers for outdoor usage.
Conclusion: Bose has a broad offering that matches top rival Sonos well. The SoundTouch system has one of the better source supports out there. Both AirPlay and Spotify Connect is impressive. Maybee Sonos should be a little worried.