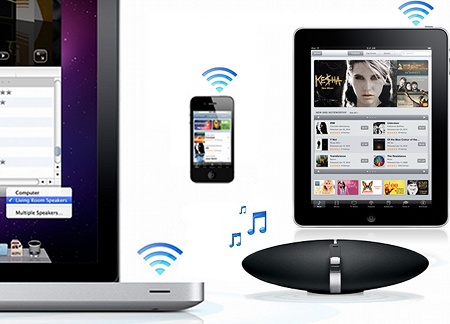 AirPlay 2 is a mayor update that is released with iOS 11. It brings features for grouping compatible speakers in zones, in Apple's Home app, and the ability to control them with different music from one device.  You can also play the same music on all of them.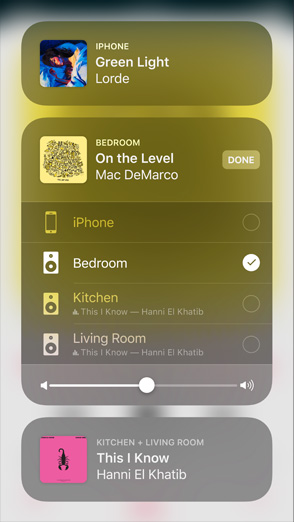 Not all AirPlay speakers are compatible with AirPlay 2 and those that are will have to be updated to enable AirPlay 2. Apple HomePod has it. AirPlay 2 fixes much of the issues with AirPlay and makes Apple a serious player in the multi-room field. If you are considering buying a new speaker, make shure it is compatible with AirPlay 2 and not just AirPlay.
AirPlay
AirPlay is a technique developed by Apple Inc. that allows wireless streaming of audio, video and photos between devices. An iPad, iPhone or a computer running iTunes server streams the music to an Apple TV, AirPort Express, standalone speaker or a compatible receiver.
So if you have an iPhone (or other iDevice), AirPlay is a great way to easily play the music on it through a receiver and even control the volume and turn the receiver on. You can also show photos and play some videos and games that way which is added value. Third-party apps like Spotify and Youtube can also send audio and video streams over AirPlay. The iTunes Remote app for iOS can be used to control media playback from a Mac to selected streaming devices.
Since AirPlay streams the content from your iOS device to the speaker/receiver, it does take a battery toll on your iOS device.
Multi-room support
Before you build a multi-room solution based on AirPlay you should know of the limitations. AirPlays biggest disadvantage compared to Sonos and Squeezebox is that you can't play different songs in different zones at the same time from one device (which is a core requirement for many multi-roomers). You can't even play the same song in all zones from an iOS device, only from a computer running iTunes server.
However, there are a few ways to add some multi-room functionality. Whaale let's you stream local music (iTunes, not in apps like Spotify) on your iOS device to different speakers. Different songs to different speakers at the same time.
You can install the Airfoil program on a Mac that acts as a proxy that sends the AirPlay music from your iOS device to as many speakers as you want. But it can't send different music to different speakers.
AirPlay devices
AirPlay wireless technology (receiver mode) is integrated into wireless speakers, speaker docks, AV receivers, and stereo systems from companies such as Naim, Marantz, Bose, Yamaha and Denon. Song titles, artists, album names, elapsed and remaining time, and album artwork can appear on AirPlay-enabled speakers with graphical displays.
Simple AirPlay system
Buy a Denon Heos 3 Wireless Speaker
 or the high end Naim Mu-so and your done. Both has integrated speakers. Apple´s own HomePod is also a simple solution, as long as you have iOS 11, which is required for setup. See more suggestions below the article.
Advanced AirPlay system
For music, buy an AirPlay receiver like the Marantz Melody, Bose SoundTouch SA-4 or the Yamaha RX-V677 7.2-channel Wi-Fi Network AV Receiver with AirPlay
and pair them with speakers of your choice. Then optionally have standalone AirPlay speakers in more rooms for a multi-room solution.
For music, images and audio buy an Apple TV and pair it with a receiver without AirPlay.
If you want wired speakers from a centralized hub that manages multiple zones, you can check out the AirHome system.
AirPlay to existing sound system
If you have an existing HiFi system that you want to AirPlay to, the simplest way to get started is to buy an Apple AirPort Express and connect it to your existing HiFi system/receiver trough its audio out (optical and analog).
If you also want to stream images, video and games, buy an Apple TV instead.
Both of them require a receiver to play audio with quality. Audio through a TV will also work with Apple TV and computer speakers will work with the analog 3.5mm out on the AirPort Express but usually not optimal sound quality in those cases.
Alternative solutions
The new Raspberry Pi 3 with integrated WiFi can AirPlay with Max2Play, as can the Raspberry Pi 2. You can also get AirPlay on them by adding Shairport or Kodi to a standard Raspbian image.
Turn a PC into an AirPlay device with AirServer.  Xbox one has an AirServer app that enables Airplay on it. Even though it has low ratings. The discontinued device Boxee box from D-Link supports AirPlay. The Sonos multi-room system is AirPlay compatible, if connected to an AirPort Express.
Read more about AirPlay
Here is a list of all blog posts about AirPlay solutions.
AirPlay example
1. Connect an iPhone to the local wireless network.
2. Make sure the receiver device is attached to the network through wireless or ethernet.
3.Start a music app on the iPhone and look for the AirPlay logo.


4. Press the logo and select output device.
In iOS 7 and later, you can always reach the AirPlay button in the control center that displays when swiping from bottom and up.
Peer to peer
iOS 8 brought the ability to AirPlay directly to an AppleTV without a network, via peer to peer. Similar to how AirDrop works.
Faster in iOS 9, with compatibility issues
Apple has improved overall performance of AirPlay in iOS 9 which makes it faster and easier on the battery. Unfortunately some 3rd party AirPlay devices has stopped working in the process, as noted in the comments section below this article.
AirPlay defaults to mirroring in iOS 10
Due to changed layout, AirPlay mirroring is the default instead of AirPlay audio. Read more on Reddit.
iOS 11 introduces AirPlay 2
It has multi-room features like grouping compatible speakers in zones, the ability to control them with different music from one device and play the same music on all of them (party mode).
(Visited 44,258 times, 1 visits today)