Spotify Connect is Spotify's own solution for streaming music to speakers and receivers. Historically, Spotify have had clients on different platforms like Sonos, Squeezebox, Boxee, Onkyo and more. This has lead to an almost uncontrollable Spotify experience that is far from stringent for the end user. Which has lead Spotify to develop their own universal experience, Spotify Connect.
Devices with Spotify Connect are controlled with Spotify's native app on Android and iOS. You can also control them from Spotify on a Computer. The device has a built in player that simply plays the music it is told by the controller, by steaming it directly from Spotify.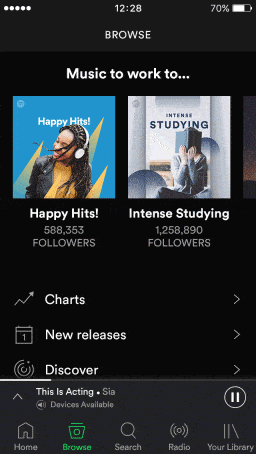 Spotify Connect is built in speakers as well as receivers. Android and iOS devices can also act as Spotify Connect devices. So an iPad connected to a speaker can be remoted from another smartphone to play Spotify music through Spotify Connect. The same goes for a computer that has Spotify on it and is attached to speakers.
If you want to group your speakers and play the same music on them simultaneously, you have to buy the same brand of speakers. And be sure that the brand has support for grouping in an own app. This is a downside compared to Chromecast Audio where you can group speakers of different brand in groups in the Google Home App. AirPlay 2 also has the ability to group speakers of different brands. So this is something Spotify should implement in the future to keep up with the competition.
Devices with Spotify Connect
Audio Pro
http://www.musicmultiroom.com/2018/03/audio-pro-addon-series/
Harman Kardon Omni+
http://www.musicmultiroom.com/2017/09/harman-kardon-omni-chromecast-spotify-connect/
JBL Playlist
http://www.musicmultiroom.com/2017/08/jbl-playlist-chromecast-audio/
Urbanears
http://www.musicmultiroom.com/2017/03/urbanears-baggen-stammen/
Sonos
http://www.musicmultiroom.com/sonos/
Yamaha MusicCast
http://www.musicmultiroom.com/2016/04/yamaha-musiccast-multi-room/
Naim Mu-so
http://www.musicmultiroom.com/2016/03/naim-mu-qb-with-airplay/
http://www.musicmultiroom.com/2014/12/mu-airplay-spotify-connect/
Bose SoundTouch
http://www.musicmultiroom.com/2015/10/bose-soundtouch-series-iii-with-the-new-entry-level-soundtouch-10/
http://www.musicmultiroom.com/2014/12/bose-soundtouch-series-ii/
Cint Asgard
http://www.musicmultiroom.com/2015/04/odin-brings-big-sound/
Denon HEOS
http://www.musicmultiroom.com/2016/04/denon-upgrades-heos-hi-res-bluetooth/
http://www.musicmultiroom.com/2014/08/heos-denon-challenges-sonos/
Google Chromecast and Chromecast audio
http://www.musicmultiroom.com/2015/09/google-chromecast-audio-with-spotify/
Onkyo, Denon and Sony receivers
http://www.musicmultiroom.com/2015/10/3-home-theater-receivers-with-multiroom-and-4k-under-499/
Philips
http://www.musicmultiroom.com/2014/11/spotify-speakers-philips/
Ruark Audio R2
http://www.musicmultiroom.com/2015/02/ruark-audio-r2/
Samsung Shape
http://www.musicmultiroom.com/2014/08/samsung-shape-gets-spotify-connect/
Sony
http://www.musicmultiroom.com/2016/04/mobile-google-cast-spotify-connect-sony-h-ear-go/
http://www.musicmultiroom.com/2015/09/new-sony-devices/
The Kickstarter project Gramofon by FON.
https://www.kickstarter.com/projects/fon/gramofon-modern-cloud-jukebox
Bluesound
http://www.musicmultiroom.com/2015/09/bluesound-gen-2/
http://www.musicmultiroom.com/2013/10/24-bit-audio-streaming-bluesound/
Argon iNet2+
http://www.argonaudio.com/spotify-connect/
Nocs NS2 air monitors V2
http://eu.nocs.se/products/ns2-air-monitors-v2
Libratone
http://www.libratone.com/wp-content/uploads/2014/07/PR_Libratone_Spotify-Connect_UK.pdf
Pioneer
http://www.pioneerelectronics.com/PUSA/Home/Spotify
(Visited 8,324 times, 1 visits today)