Google's Chromecast has developed into a full multi-room music solution. Simplistic gui combined with powerful technology and a low entry price point makes it a strong player in the market.
Speakers with Chromecast built-in, or the Chromecast dongles, are connected to the home Wi-Fi and are then ready to play music that is casted to them from enabled apps like Spotify and many more.
Speakers, from different brands, can be grouped together in the Google Home app and then play the same music simultaneously. So you can group a Sony speaker, a JBL Playlist and a Chromecast Audio on a group and then play the same music on them.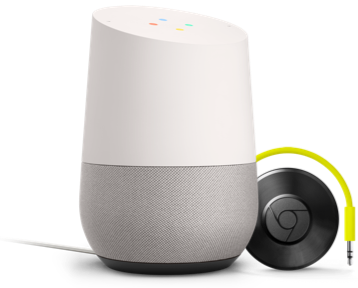 Google's own Chromecast dongle and Chromecast Audio dongle are the lowest price entry products for casting music. They must however be connected to an existing speaker. Google Home speaker is a complete alternative with a built in speaker and voice commands. However, it's speaker is in the lower end of the multi-room market.
The new Google Home Max on the other hand is targeted against the upper market and takes on Sonos Play:5 and other.
Google Cast is the technology behind Chromecast. If you for example play a song through the Spotify app, it will only tell the speaker what to play and then the speaker connects to the Spotify servers and streams the music directly from them. So the Spotify app will only be a remote control and not involved in the streaming of the music. This saves battery and processing power on the phone. This is different from AirPlay and AirPlay 2, where the phone instead will stream the music to the speaker, which will take a toll on the battery and also make the data traffic take an extra step. So the Google Cast technology is in effect smarter and more optimized. Spotify Connect uses a similar setup where the app is a remote and tells the speakers what to stream directly from the server. The two techniques often coexist in speakers.
Google's road to this great technology was far from direct. You can read more on the historical failure of the Nexus q here.
Chromecast enabled deviced
B&O
Sony has a bunch of models with Chromecast built-in from 2015 and forward.
Google Home, Home Max,  Chromecast and Chromecast Audio
and more from Harman Kardon,  Onkyo, Philips, Raumfeld and Vizio.
(Visited 262 times, 1 visits today)