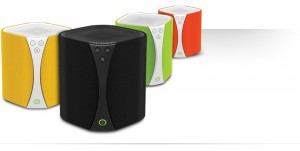 Pure has released the beginning of their new multi-room product line, Jongo. The first product out is the multi-room speaker S340B for 150£. Pure has a Sonos style approach where you use an iPhone or Android app to play music from online services, local network music and Internet radio. The online services part seems to be limited to their own Spotify style music service, Pure Music, which has a competitive price of 4.99£ per month. Pure Music seems to be limited to Europe and Australia for now. S340B has a built-in rechargeable battery pack that enables mobile use.
Jongo seems like a ambitions attempt to enter the multi-room arena. The basic building blocks is in place and it has a competitive price. Some things that would make it even better is:
Support for third party services like Pandora, Rdio and Spotify.
Pure Music in the USA.
A unit with digital out for integration with existing home audio systems.