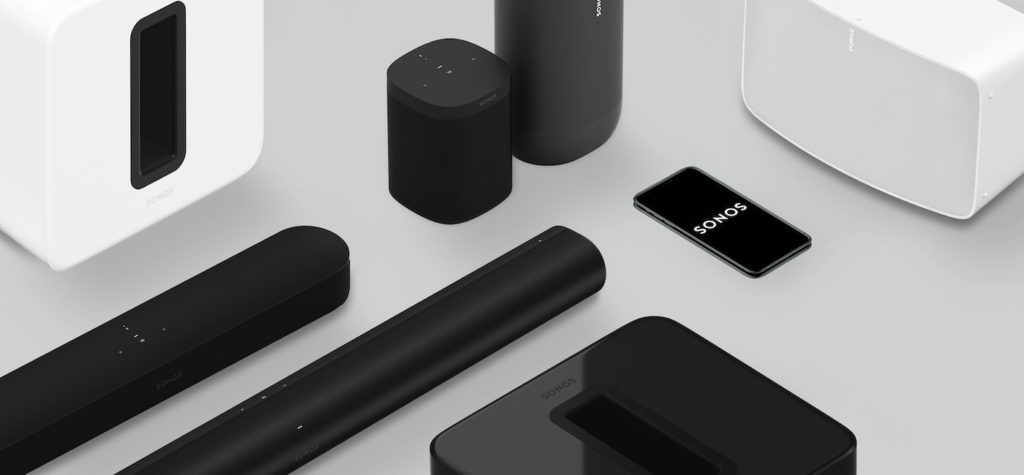 Sonos delivers a multi-room solution that is easy to use, yet very powerful. Sonos is the undisputed multi-room market leader.
The product line consists of the standalone speakers Sonos Five, One, One SL, Move and Roam. The stationary AMP (which has an integrated amplifier) and Port, that connects an existing system to Sonos. The sub-woofer SUB and the soundbars  Beam and Arc.


Five,  One, One SL, Move and Roam has built in speakers. Five has stereo sound. One, Move and Roam has mono sound but can be setup in stereo pairs to fill bigger rooms with powerful sound. One, Move and Roam also has Alexa voice control.
Amp and Port  (previously Connect and Connect:AMP and before that ZonePlayer 90 and 120) are stationary units.
SUB is a sub-woofer that can work together with Five, One and the soundbars.
Mobility
Both Move and Roam are mobile speakers that have batteries, bluetooth playing music away from home and have different levels of water resistance. Move is bigger and works best closer to home, or when moving by car. Roam has a great size for dropping in a backpack and bring on a hike or a picnic.
System architecture
The devices talks to each other on their own wireless mesh network, so no need for existing WiFi. This makes the setup very easy (no WiFi configuration at all) and the performance more stable.
The system does not require a running server on a PC. It is
totally stand alone.
You can connect the mesh network to your home network by ethernet or wireless. Previously there were a requirement for at least on product connected through ethernet.
The latest Sonos platform is called S2.
Controling the devices
The devices only has buttons for play/pause/skip/volume and they lack screens on them so they require remoting software on either a computer, iPad or a smartphone to work properly.
Android remote: Sonos for Android
iPhone remote: Sonos for iOS
AirPlay compatible
Sonos is AirPlay and AirPlay 2 compatible.
Music sources
You can connect to a large number of online services like Spotify, Apple Music, Pandora, Rdio, Google Play Music, Tidal HiFi (Lossless Flac) and more. Spotify for example gives access to millions of songs that can be streamed to different zones at the same time for 9.99$/month.
The Sonos units does not have music stored on them. Instead you play music from local network sources like a shared folder on a computer or a server. If you have an iOS device, you can play the local iTunes music on your Sonos devices.
Spotify Connect
You can play Spotify on Sonos both from the Sonos app and now also from the native Spotify app through Spotify Connect. Activate "Control Sonos from Spotify" in the Sonos app settings to enable Spotify Connect.
(Visited 2,128 times, 1 visits today)