Sonos is deepening its music offering with a sub-woofer, named Sonos SUB.
Sonos is promising that the SUB will "fill any room with thick layers of bottomless sound". And it will " let you hear and feel the weight of every chord, kick, splash and roll", so prepare to be subbed 🙂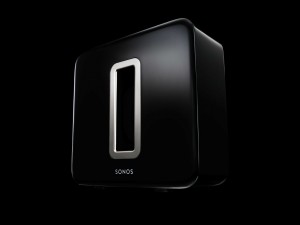 The SUB can, just like the play 3 and play 5, be placed anywhere in a room, it uses Sonos own wireless system to sync with the other units. The install is simple: Plug it into a power source, press the setup button and answer some prompts on your controler.
The SUB works with all Sonos amplified components: CONNECT:AMP; PLAY:5; PLAY:3. It does not work with the non-amplified Sonos CONNECT.
Launching on June 19, the SUB is available in a high-gloss black lacquer finish for $699 USD ($749 CAD, £699 EU, £599 UK). A black matte version will be available in September 2012 for $599 USD ($649 CAD, £599 EU, £499 UK).
(Visited 30 times, 1 visits today)