Yamaha is going all-in with it´s MusicCast wireless multi-room system. Supported devices keeps growing and so does the functionality. So it is time to take a closer look at what it has to offer.
Let's start with the basics: MusicCast devices has support for AirPlay, Spotify Connect, Internet Radio, Bluetooth and DLNA. They support 24-bit high resolution audio, can be linked to play in party mode and are controlled by an iOS or Android app. The system includes receivers, amplifiers, stand alone speakers, soundbars and Hi-Fi systems. They connect to each other through your wireless router and can also use wired ethernet.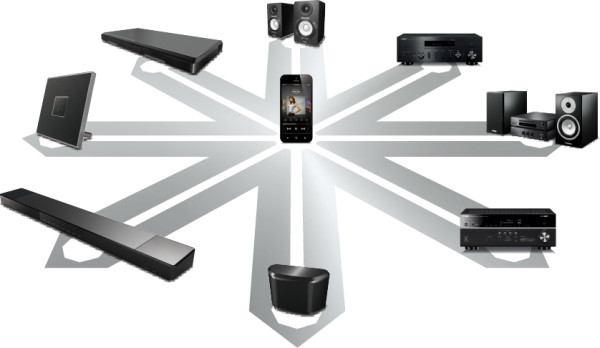 Streaming services
MusicCast supports Spotify Connect, Pandora, Rhapsody and SiriusXM Internet Radio streaming services.
AirPlay
You can AirPlay from your iOS device or Mac to all MusicCast devices. You can not AirPlay to multiple devices using the Link function. Use a Bluetooth for that instead.
Bluetooth
All MusicCast devices has Bluetooth. If you play with Bluetooth to a device, that device can in turn link with your other MusicCast devices to play synchronized music in multiple rooms, which is usually called party mode. You can use the app for volume, play/pause and track skip control.
Bluetooth has some latency between for example the phone sending the signal and the input device, but the linked devices will play in sync with each other.
You can also send music from MusicCast devices using Bluetooth to enabled speaker or headphones. But you can't receive and transmit Bluetooth at the same time. So either as input or output.
DLNA
All MusicCast devices can access DLNA-compatible sources like computers and NAS devices.
Hi-res 24-bit
MusicCast supports true high-resolution audio formats like Apple Lossless (ALAC) up to 96 kHz / 24-bit, AIFF, FLAC and WAV files up to 192 kHz / 24-bit. Most MusicCast devices also support playback of DSD streams up to 5.6 MHz.
MusicCast app
The app is available on iOS and Android. It provides browsing and playback of music libraries on the network and the device itself. It can also access sources connected to MusicCast products like gaming consoles, CD and Blu-ray players, turntables, and more, which can be played in any room with a linked MusicCast device. Up to 10 MusicCast devices can be controlled by the app.
MusicCast devices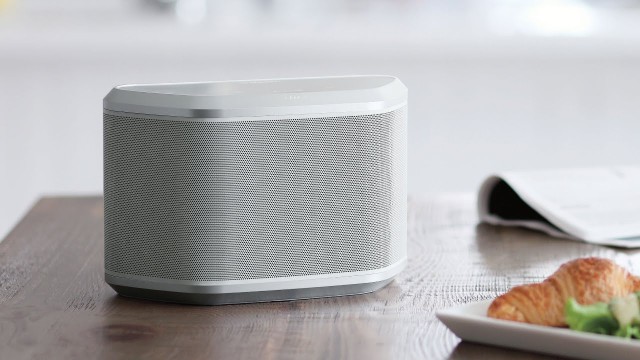 The MusicCast Wireless Speaker WX-030WH features a large passive radiator combined with Yamaha's digital sound processing. It comes in black or white with a silver accent. It can be wall mounted using a threaded mounting hole. It is possible to pair two MusicCast Wireless Speakers in stereo mode.
NX-N500 is a stereo pair of Hi-Fi network speakers with a built in amplifier and MusicCast. They can be used by themselves via Wi-Fi, ethernet or Bluetooth. Or connected to any music output device you like through optical or analog input.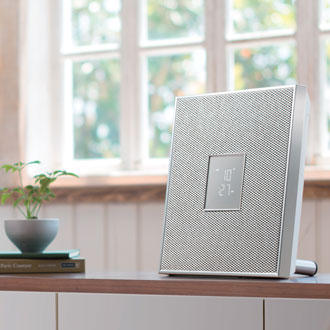 ISX-80 is a more design oriented wireless speaker in the MusicCast family that can be placed on the wall.
Soundbars: YSP-5600, YSP-1600 and SRT-1500.
AV Receivers / Amplifiers: RX-V779, RX-V679
,RX-V579, RX-V479, RX-S601, RX-S601D, CX-A5100, RX-A3050, RX-A2050, RX-A1050, RX-A850, RX-A750, RX-A550 and RX-AS710D,
HiFi Components: R-N602, CD-NT670 and CD-NT670D,
HiFi Systems: MCR-N870, MCR-N870D, MCR-N670 and MCR-N670D.
Summary
Yamaha's MusicCast offering is huge and the combinations and ways to use the devices seems almost endless. You get products that has support for the highest audio quality and you will always have Bluetooth to fall back on. Compared to Sonos, it is a more open system with broader technical functionality even though Sonos is best in their niche, in app control of the most streaming services.