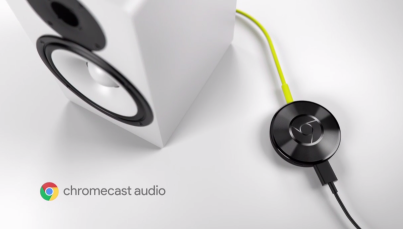 Update December 10, 2015: Google has released the multiroom functionality firmware that enables party mode for Chromecast Audio. Simply group the Chromecasts together in the Chromecast App to play the same music on them. The firmware also includes support for high resolution lossless audio up to 96KHz/24bit.
Google has just announced two new Chromecast devices. One called the new Chromecast that basically is an upgraded version of the existing Chromecast with focus on streaming video. Then there is the Chromecast Audio that is targeted at playing multiroom music in your home. Now with native Spotify support!
Chromecast Audio has both analog and digital audio output through rca, aux (3.5mm) and optical that is connected to a receiver or active speakers (full size or more like computer speakers). This is because Chromecast Audio does not have a built in amplifier that can drive passive speakers on its own.
As the number of chromecast supported apps grows fast, Google has turned its focus to Content discovery, to let you be able to find quality sources that matches your taste. Support for Spotify was also announced which is a great addition. Pandora and iheart radio are two other popular services.
You can play local network music stored on a NAS, computer or a phone by using an App that can play the music from the source and also has chromecast output.
Google also announced the Google Play Music family plan for only 14.99$/month, for up to 6 people simultaneously. It will come later this year.
Chromecast Audio is Googles first Audio Player since the failed Nexus q that costed 8 times more and was withdrawn from the market after a few months. That fiasco led Google to revise their whole strategy for streamers and to focus on simpler and lower prices devices.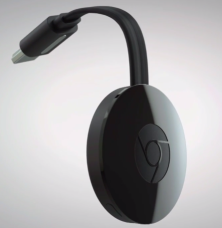 Like the previous version, the new Chromecast (not Audio) has a HDMI output and can be attached to a receiver and play music through it without any loss in quality. The optical out on the Chromecast Audio gives the same quality.
Both new Chromecasts supports 2.4 and 5ghz wireless. The signal strength is twice that of the previous version.
The process of casting audio looks the same as casting video and other.
Chromecast Audio has a guest mode that lets your friends connect and share their music in a safe way.
Multiroom
You can have multiple Chromecasts in your home, in different rooms, and play the music you want on them from your smartphone, one at a time. Each person in your home can play music at the same time on different players.  An update that enables party mode, to group players as one and play the same music on them simultaneously, will come later this year.
Where to buy it
All this makes the Chromecast Audio a great entry level music streaming device for its price.
Chromecast Audio is priced at 35$.
The new Chromecast is priced at 35$.
You can buy them now at the Google online store.
The old Chromecast gets spotify
The owners of the 20 million Chromecast units already sold will be glad to hear that the old Chromecast gets Spotify support in an upcoming firmware update within a few weeks.