The living room audio Receiver can be the most powerful part of your multiroom setup or its achilles heel. Any decent receiver connected to a pair of decent speakers can output higher quality music than most stand alone multiroom speakers. But what good will it do if they lack multiroom technology?
Im currently in the market for a new home theater receiver and multiroom support is a must. Along with support for 4K UHD, Audio return channel, 7.2 surround, HDMI 2.0, HDCP 2.2 and decoding of the usual HD audio formats. But without multiroom techniques, it would end up collecting dust for most part. Or i would have to buy an external streaming player and connect it to the receiver.
So let's take a closer look at three receivers that supports the criterias above:
Denon AVR-X1200W

AVR-X1200W is part of Denons 2015 lineup and has Spotify Connect, AirPlay, Bluetooth and DLNA 1.5. Denons own Heos system is not built in. X1200W can drive speakers in a second zone if not all 7 speakers are in use for your home theater setup.
The output is 80W at 8 ohm. It has basic support for DTS Atmos (5.2.2), which can bring 3D surround with ceiling speakers. DTS X will come in a firmware update later this year.
Sony STR-DN860

The STR-DN860 has Google Cast, AirPlay, Spotify Connect, Bluetooth and DLNA. The STR-DN860 is fully integrated with Sonys multiroom system so it can be grouped together with Sony stand alone speakers, in their Song pal link app, to play music in party mode.
The output is 95W at 8 ohm. It also has Miracast. STR-DN860 does not have Dolby Atmos.
Onkyo TX-NR545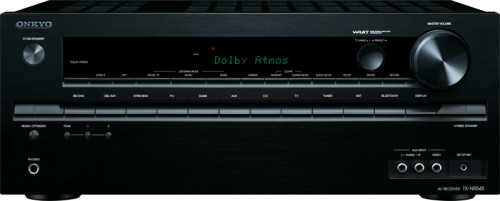 The TX-NR545 has Spotify Connect, AirPlay, DLNA and Bluetooth. Which are the same techniques that the AVR-X1200W supports.
The output is 65W at 8 ohm. TX-NR545 has basic Dolby Atmos support (5.2.2) in that two of its 7 speakers can be used for it. The TX-NR545 does not have DTS X.
Conclusion
From a multiroom perspective, the STR-DN860 is the strongest receiver with its support for Google Cast, AirPlay, Spotify Connect, Bluetooth, DLNA and works well with Sonys other multiroom products. The other two supports the same, except Google Cast.
From a home theater perspective, the AVR-X1200W is the strongest receiver with both Dolby Atmos and DTS X support. The TX-NR545 comes second, due to its Dolby Atmos support and the STR-DN860 third. Even though they all support the usual HD formats.
So the AVR-X1200W from Denon seems like the best overall choice, when weighing in both multiroom and home theater aspects. With the STR-DN860 from Sony as close runner up due to its even stronger multiroom support. But maybe the better integration with the other Sony products (and Google Cast) makes me go in that direction. Its a hard choice.