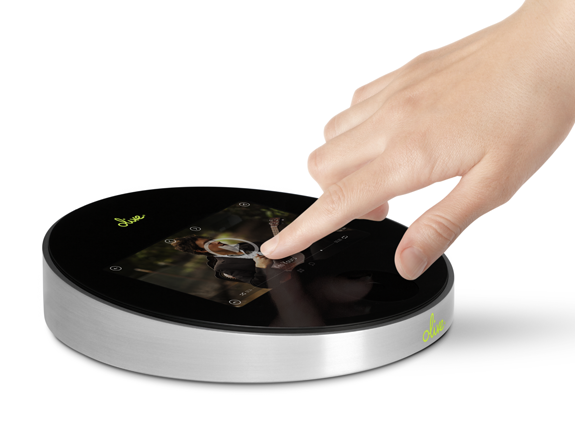 With the promise of delivering much of what a multiroom experience should be for a decent price, Olive One has hit the indiegogo.com crowd-funding site with the goal of raising at least $200 000 and ultimately going after $1000 000. With 16 days to go, they have raised $225 276, so hundreds of backers should receive a Olive One in July this year.
The Olive One has these stated features:
* Bluetooth 4
* WiFi, WiFi direct and WiFi Miracast
* UPnP/DLNA
* Optional harddrive
* Pandora
* Play Youtube music videos
* 7-inch LCD touchscreen
* 32-bit/384kHz Burr-Brown DAC
* 2 x 32 watt (8 Ohm) dual-mono amps
* MP3, FLAC, ALAC, WAV, AIFF, and iTunes support
* App control via iPhone/iPad, Android and later windows phone 8
* They state support for cloud services like Amazon Locker, iTunes Match and Google Play.
* It will learn from your listening and probably adapts its gui. It don´t say in detail .
* Can be connected to Social networks where listening is tweeted and shared.
* Use the Olive Home Cloud Service to access all the music on your ONE, anywhere in the world. No monthly subscription fee.
* Add time-shifting to your internet radio. Play, pause, forward and rewind at any time. Or schedule recordings of your favorite show. Try this with your radio at home!
* Automatically sync ONE with your music libraries on your PC or Mac.
* Hand built in the USA.
The Olive One lacks these features for now:
* AirPlay.
* Native Spotify support.
The design and specs looks good and they state that working prototypes exist with the software almost done. So even if one cant help to wonder how all of this should be accomplished in such a short time and with such a small budget, it could probably be done. If these devices are shipped on time, with these features, it will be an impressive accomplishment.
(Visited 234 times, 1 visits today)