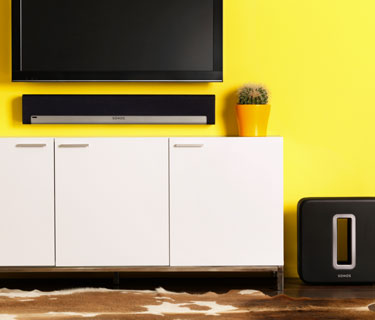 PLAYBAR´s main purpose is to deliver high quality HIFI sound for the TV, instead of the TV speakers. Either you connect the TV to the PLAYBAR with the included optical wire
It can also be used as a standard Sonos unit that plays the usual Sonos music sources.
PLAYBAR consists of 9 amplified speakers. Six mid woofers and three tweeters.
It has an accelerometer to detect orientation and adjust EQ. Thus will a wall mounted PLAYBAR have more bass so low-frequency tones are reduced.
PLAYBAR decodes formats like Dolby Digital 2.0, Dolby Digital 5.1 and PCM. It does not decode HD formats which cannot even be transferred to it due to the lack of an HDMI contact.
PLAYBAR has 3.0 audio on it´s own. It has 3.1 audio when paired with a SUB and 5.1 audio when paired with two PLAY:3s and a SUB.
You control it with the standard Sonos app or with the TV remote (it´s compatible with most IR-remotes).
(Visited 93 times, 1 visits today)