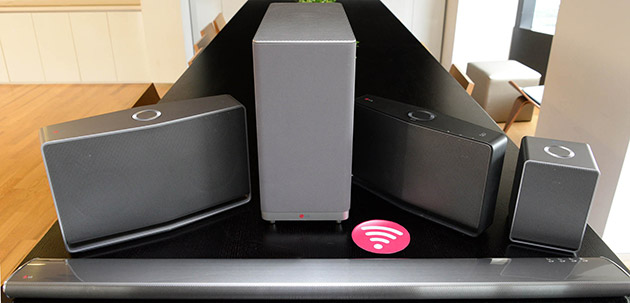 Yet another electronics dragon enters the multi-room market, LG, with the Music Flow system. Targeting Sonos of course and bringing both usual and unusual functionality to the fight.
Music Flow supports 24 bit, 192kHz quality audio across its devices, offering HD music playback. Which Sonos does not.
Music Flow is controlled by the Music Flow Player app on iOS or Android, which streams music sources and services such as Spotify (integrated with Spotify Connect), Deezer, Napster, Internet radio, or sources connected to your Wi-Fi. The devices connect with mesh network technology and dual-band Wi-Fi. They pair with a single tap via NFC (which iPhone does not have). The system has a party mode for playing the same music in all zones and a cinema mode for watching movies.
The Music Flow Player app can also be used for listen to music when you're on the move.The app works as a standard music player on your phone when it isn't connected to the speaker setup, so the music can continue to play in it when you leave the house.
You can also interact with the system through instant messages with an IM app. That's called HomeChat and lets you ask the system for musical recommendations when you are away from home and more. Why is the first question that comes to mind but maybe it has a good answer?
The R1 network bridge (£49.99),  the 40W H5 speaker (£229.99) and 70W H7 speaker (£328.99) will hit the shops first, arriving within a month. The 30W H3 speaker (£149.99) and the HS6 320W Sound bar (£499.99) will follow soon after, according to LG.
Summary
The LG Music Flow system is unusually mature at launch. It meets the core requirements for a multi-room system well and also supports HD audio which not even Sonos does. The competition for the number two spot, behind Sonos, has gotten tighter.
(Visited 197 times, 1 visits today)