The news from CES is starting to drop in and so far we have heard of:
A new speaker in LGs Music Flow series with rechargeable battery. The LG H4 Portable is their first wireless speaker with a built-in battery for easy portability in the home. Two Wi-Fi Sound Bars are also added to the Flow seris that aims to deliver rich, full and immersive audio — the HS7 provides HD sound while the HS9 offers deep acoustics.
Googles lanches a new audio streaming platform called Google Cast. It is the same technology as behind Chromecast that lets you cast your favorite music from your mobile device to compatible speakers. Use your Android and iOS tablets and smartphones, Mac and Windows computers to control the music directly from compatible apps like Google Play Music, Pandora, Rdio and programs like Chrome. It reminds a lot of how Spotify Connect works and of course Chromecast. The device tells the speaker what to play and the speaker then handles it from there. This marks the final step in Googles clean up after the failed Nexus q.
Compatible speakers will be available in the spring from Denon Heos, LG Music Flow and Sony. Google is also collaborating with audio chip designers and system integrators, so expect to see more Cast-friendly equipment later in the year.
SuperTooth multi-room audio system is the odd bird in the multi-room family with its bluetooth only approach. This makes the system simpler and thus cheaper to buy. The system includes up to five speakers placed around the home. The speaker system connects to SuperTooth's free multi-room app, from which a user can control both system volume and which speakers that are set to mono versus stereo.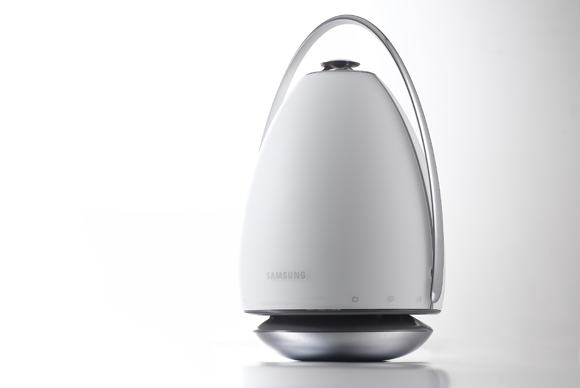 Samsung shells the multi-room market with two artillery ammunition like speakers, the WAM6500 and the WAM7500. WAM6500 is a battery portable speaker and WAM7500 its bigger brother. Both are part of Samsungs Shape multi-room family. Both utilize a proprietary "Ring Radiator" technology that "allows sound to flow in a 360-degree radius, with the perfect balance between treble and bass." according to Samsung. The speakers were developed at their new audio lab in Valencia, California.
Finally, NYNE will demonstrate its new WiHi family of products that you can create a multi-room, multi-source audio experience with using both Wi-Fi and Bluetooth, independent of a router or Internet connection.
Users can create a wireless audio network by connecting NYNE's WiHi Ally box to any existing audio system, transforming it into a Wi-Fi and Bluetooth-enabled high definition audio system
Using the NYNE WiHi iOS and Android based apps, you can play your personal music from any source on your network such as a laptop, hard drive or any storage device to any room or all rooms. It also has built-in rechargeable batteries for use away from home.
Listen to your personal music from your smartphone, Internet radio, laptop, or any external device connected to the network. The NYNE Ally box features analog, optical and coaxial digital audio outputs with network access on any DLNA or UPnP server. Lets hope for support for services like Spotify in the future.
(Visited 345 times, 1 visits today)