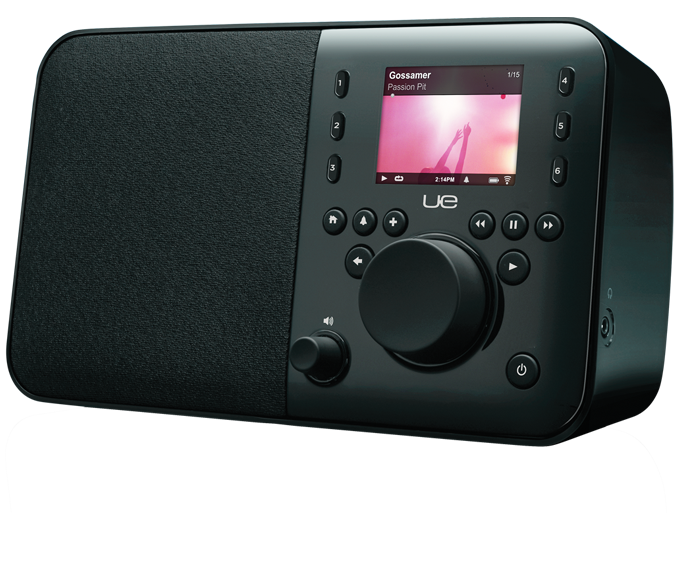 In a surprise announcement, Logitech disconnects its Squeezebox line of products. Moving forward, Logitech will not develop solutions that are backwards compatible with Squeezebox. Instead they now make a fresh start with a more streamlined system that installs easy and has a updated UI.
Logitech has bundled a bunch of products under the UE brand (headphones, bluetooth speakers, air play speakers..) but we will focus on the streaming part.
UE Smart Radio is part of a new eco system for multi-room streaming from Logitech. The eco system consists of:
* A cloud service back-end system that serves the Smart Radio with requested content.
* A iPhone/iPad/Android remote app
* The UE Smart Radio that can play services like Spotify, Internet Radio stations and local network audio.
* Optional UE Music Library service on a local computer/NAS to enable local network audio.
More details about UE Smart Radio.
The Radio works fine in a multi-room setting with different radios representing different zones.
Current Squeezebox Radios can be upgraded to the UE Smart Radio software in a few months.
Even though the Smart Radio is a competent device, it does not serve everybody´s needs, primarily due to the lack of a digital audio output. That was covered in the Squeezebox lineup by the Squeezebox Touch, which complemented the Radio wery well. Logitech has not announced any device to fill this gap but a Logitech engineer has more or less confirmed that a replacement digital out is coming in a forum post.

Update 28/9
Logitechs product director, Ariel Fischer, has made a blog post where he clarifies that the Squeezebox products and services (mysqueezebox.com, controller apps) will continue to be supported.
(Visited 1,368 times, 1 visits today)