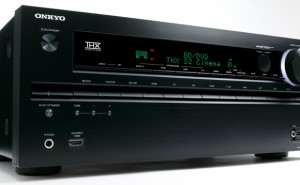 If you are serious about your sound, you will need a dedicated receiver in one or more zones in your multi-room solution. Probably in the living-room, hocked up to surround speakers, your zone player of choice, a big screen tv, a HTPC media center (or Tivo or other) and a game console (Xbox or PS3) . The receiver needs to have multiple input types like coaxial and optical digital (SPDIF), hdmi and a couple of RCA and 3.5mm analog inputs. It is also important that the receiver can decode audio through the hdmi inputs, not only pass it trough to a tv.
So what kind of a receiver fits those requirements? Well the Onkyo NR609 does. So lets take a closer look at it. The NR09 is Onkyos middle-class model and has all of the above and more like:
* 7.2 surround support for the latest HD audio formats.
* iPhone and Android remoting app that lets you control what source to play, volume, bass, current playlist (if using DLNA, Spotify or other supported streaming service) and more.
* Spotify support. The receiver has an integrated built-in spotify player that requires a premium account. Spotify can be remoted by the Onkyo Android app or through the on screen display.
* Automatic audio setup for multiple listening positions.
* Network ethernet input which enables DLNA streaming from your local network and firmware upgrades trough the Internet.
* Two zones support. It is possible to have a set of speakers for an additional zone attached to the NR609.
* Auto turn of when idle for a specified time.
I have been using the Onkyo for three weeks now and can conclude that it delivers great sound and it does so intelligently. It adapts its settings automatically between digital surround and stereo. The calibration lifted the sound even more and the android app finally got Spotify support on October 31. The receiver also looks great and has a smooth light ring around the volume control when turned on. The on screen menu structure feels a little strange at first. The receiver does not support Airplay, so not the optimal solution for an Airplay based multi-room system.
(Visited 174 times, 1 visits today)